September 2011: Vietnam Solar Serve was introduced to a Social Entrepreneurs

Support Program (CSIP). Their aim was to identify and support social entrepreneurs at their early stages of development. Mr Bich, the director, felt to participate in this program along with 200 other entrepreneurs in Vietnam. There were three rounds. In each round participants dropped out and finally Mr. Bich had to stand in front of a panel. The result was made known on the first of September. Thet had chosen Mr. Bich as the best social entrepreneur 2011. It came along with 20,000 dollars worth as seed money to strengthen and to develop Solar Serve.
July 2011: Vietnam Solar Serve has been recently contacted by a tourist agency in southern Vietnam. They are seriously thinking about establishing several solar villages. They asked us if we could help them with solar cooking portion of the project. Several years ago VSS provided a small village near Marble Mountains with many solar cookers. It attracted many people and several reports were written in the newspapers. Due to government development plans however, this village has been recently removed.
April 2011: Vietnamese TV broadcast a forty part comedy drama about a

man who researched parabolic solar cookers and started to make them. His wife did not like it. All kinds of funny situations happened but finally the man was very successful and able to run a large company.
June 2010: Slideshow - World Environment Day in Danang - 05-06-2010
July 2009: With assistance from donors and the help of many volunteers,

Solar Serve completed construction of its new center in Danang last summer. The center was dedicated in June 2008 at a ceremony attended by over 120 people that included a solar meal prepared by Solar Serve staff and volunteers. The new center will be used for solar cooker construction and storage, training, and research. In cooperation with the Danang University, Solar Serve is working to make the village of Hoa Quy a solar cooking model for the region around Danang and beyond. An initial distribution of several dozen solar box cookers and 20 parabolic cookers has occurred, and, according to Solar Serve, "The locals love it. They are using the solar cookers by themselves and do not need our help anymore. Articles in national and local newspapers appeared and there was also a short local TV report." Solar Serve has also begun raising awareness in Quang Tri province, and has trained and provided solar cookers to over 40 families.
May 2009: Cooking with the Sun. This video clip was made three years ago by Surpreme Master Tv. It covers the work of Solar Serve from 2000 to 2005.
June 2008: This year Solar Serve organized the International Environment Day in a small village near their center. Some officials from the Environment department were invited and the locals were happy to show and cook with their cookers. It took awhile before the sun broke through, but they were able to cook after 10 o'clock. It was very rewarding. A combination of box cookers and parabolic cookers seems to be very successful. The locals loved it, even after this day when they were approached by the media without any involvement from us. The cookers could stand the test. They are planning to provide more solar cookers in order to make this village a good model for using solar cookers.
June 2008: There was a conference for volunteers going on in Danang. The leaders of Solar

Serve felt that during this time they should dedicate their new Solar Serve center. So they invited the volunteers to attend their dedication. Two bus loads of people arrived on June 15 at the center and they had a great time of celebration together. They were at least with 120 people together and even their deaf workers invited their friends. They told the history of the center, showed a short power point presentation and thanked the people who have stood with them during this time. After that they had a wonderful meal prepared by their staff and other volunteers. Many people expressed their excitement and some of them believed that the building will soon be too small for all the work that will be in store.
April 2008: Solar Serve has also been asked to make their parabolic cooker smaller for transport. They used the same mold of their present parabolic cooker (1.30m) and divided it in four parts. It took some time, but they came up with the cooker you see in the picture. They also made the stand foldable. The new four-part parabolic cooker is working well and weights only 23 kg. It fits in 100 x 80 x 20 cm carton boxes, which is good for transport. The deaf workers were very excited when they already got some orders from Canada and Holland.
Parabolic disc in four parts. A foldable stand. Weight: 23 kg. Fits in a 100 x 80 x 20 cm cardboard shipping box
March 2008: In early 2007 the non-profit Solar Serve (SLS) organization was prematurely evicted from its solar cooker factory in Tamky. Though unfortunate, the incident created an opportunity to move the factory to Da Nang, which is more suitable for transport, materials acquisition, marketing, and access to labor. A search for a suitable building was unfruitful, and the financially difficult decision was made to purchase land for a new factory. In August, SLS acquired a 420-square-meter tract of land big enough for a factory and additional space for research and storage. It is located behind the Marble Mountains area, along the beach and the new road to Hoi An. SLS worked with an architect to design the building, which will house the factory on the first floor, and a show room and training rooms on the second floor. Construction of the building began in November, and by the end of December the foundation had been laid and the exterior walls framed. Work continues on the interior walls and fixtures.
SLS has a small budget, and didn't have the funds necessary to purchase the land or pay construction costs. Though SLS doesn't solicit donations directly, it received financial support from a variety of sources: "Friends and unknown people, individuals like a handicapped person, a former drug addict, an embassy worker, a single mother, an older couple who gave their anniversary gift, leaders from an organization, a church, support of a fair and secondhand sale, a sponsor walk, dozens of companies, poor, rich and also children." SLS was overwhelmed with the generosity, and "felt like solar cookers bathing in beams of warmth and love. It was a miracle."
July 2007: In partnership with Dutch organization Solar Cooker Workgroup Sliedrecht NL, Vietnam Solar Serve (SLS) has developed a new solar box cooker for use in Vietnam. The previous SLS solar box cooker is made from wood, which is increasing difficult to purchase in Vietnam. The new cooker is made from aluminum sheets that are shaped using two molds, one for the inner box and one for the outer box.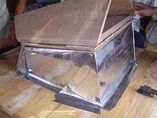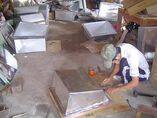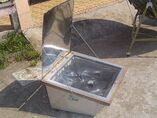 Two molds are used for the inner and outer box of the new solar box cooker
May 2007: Associate Professor Dr. Hoàng Dương Hùng (till 2010 the mentor of Solar Serve from the University of Danang) has designed a machine that presses a wedge-shaped piece of aluminum into a parabolic curve, saving time over current manual shaping procedures. The six panels that comprise an assembled parabolic cooker can be disassembled for easy transport.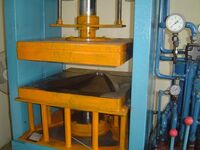 The press-machine of dr. Hung of the University of Danang
November 2006: This year, the Solar Serve organization has been introducing solar cookers to the Raglai minority south of Phan Rang. Many Raglai cut and sell firewood for a living, and were a little hesitant to try solar cooking. They warmed to the idea over time. Solar Serve organized workshops, trained a person to conduct follow-up house visits, and ultimately provided 100 solar box cookers and 30 concentrator-type solar cookers to the community. One kind Vietnamese donor provided funds for 20 of the solar cookers. To celebrate International Environment Day, 70 Raglai solar cooked a feast of fish, beef, vegetables, rice, and curry for dozens of people, including some local authorities. Contact: Nguyen Tan Bich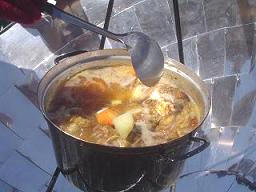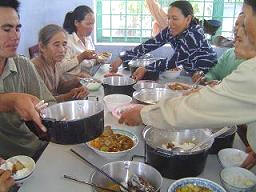 From pot to plate, this solar curry dish was was a big hit.
November 2005: The Vietnam Solar Serve organization reports overwhelming response to a nationally broadcast television documentary of their work promoting solar cookers around Da Nang, including many requests to bring solar cooking to southern areas of the country. As a result, Solar Serve conducted several workshops in Phan Rang, an area that is "like a desert. Hot, dry and sandy." Water contamination is rampant, according to Vietnam Solar Serve. "There is no clean water available but dirty river water has been pumped into an open drain system. Every day people are using this water for cooking, drinking and washing." High levels of illiteracy forced the Solar Serve staff to be creative in their workshops, in which participants ultimately assembled 100 solar box cookers and several parabolic cookers. A two-day celebration at the end of the workshops drew over 100 people, who feasted on solar-cooked fish, beef, curry, vegetables and rice.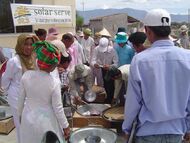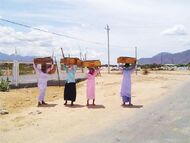 Solar cooking in Phanrang, an area like a desert "hot, dry and sandy".
Other media coverage and requests for assistance followed on the heels of the television documentary. "The first article was in a major newspaper. People from all over the country started to call the paper. It was so overwhelming that they published a second article and asked the people to contact us directly if they had further questions. From that day we received many telephone calls and a stream of visitors. It was hard who to answer first, the call or the visitor. Almost 100 people wanted to buy a parabolic solar cooker and others wanted us to set up a project with the solar box cookers. Amazing!" To meet the rising demand for solar cookers in Vietnam, Solar Serve will form a new entity to make solar cookers available for sale. The proceeds from cooker sales will directly support the work of Solar Serve. Contact: Nguyen Tan Bich
July 2005: Vietnam Solar Serve, based in DaNang, reports building 300 solar box cookers and 50 parabolic cookers during the last rainy season. The organization is investigating ways to distribute the cookers in Quang Ngai province. Vietnam Solar Serve was recently one of several solar energy projects featured on a 30-minute national television documentary. Contact: Nguyen Tan Bich
November 2003: The latest report from Nguyen Tan Bich is that his volunteer organization has distributed 700 solar cookers throughout the Quang Nam province in the past three years. These well-crafted solar box cookers are assembled by disabled individuals using local materials. Plans for the cookers are distributed freely. Funds are needed to help continue the spread of solar cooking in Vietnam. Contact: Nguyen Tan Bich
Community content is available under
CC-BY-SA
unless otherwise noted.