Jurassic World: Dominion Dominates Fandom Wikis - The Loop
Play Sound
Last edited:
29 November 2021
Vivek Kabra, an IIT Bombay alumnus lives in the Jalna area of India, where he has used his scientific background to empower child and adults by creating fun Adventures with Sun. He is the founder of Simplified Technologies for Life - the young startup that has pioneered the concept of Suryakumbh, literally, a festive gathering celebrating the power of the sun. It involves a series of workshops conducted across the country, focused exclusively on hands-on experience with solar energy.
He was encouraged to start his solar cooking campaign after having lived with solar cooking growing up. His mother solar cooked throughout his childhood, and he thought solar cooking was the norm for everyone. Frustrated that solar cooking was being passed over by his local scientific community, only fueled his desire to spread awareness of the potential for solar cooking. Solar energy is available for free across the country and there is no transportation cost involved.
All the operations of Suryakumbh are run from Jalna district in Maharashtra, which lies 60 km (37 miles) from Aurangabad.
Read more about Vivek in this interview done in 2014.
News
[
]
November 2021: Building back Suryakumbh - Vivek Kabra, with assistance from Project Chirag, was able to organize and create the first Surkakumbh since 2019. He reported that sixty children from the tribal belt of Mokhada experienced the magic of solar cooking by cooking sumptuous poha without fuel, fire, or electrical heating.
July 2021: Dr Minal Kabra, wife of solar cooking advocate Vivek Kabra, is a Jalna-based dentist who began promoting solar cooked sugar-free cookies at the request of her patients. In December 2019, she launched Kivu-Kingdom of Good Food, a sunbaked vegan cookies food tech startup to create a healthy, alternative snacking option, with her business partner Vaibhav Dugar who heads sales. Kivu, a fusion of Japanese "Chi or Ki" and French "Vu", means channeling your inner energy for greater good. The enterprise has also helped women from the local community find jobs. The cookies are now available in 60 retail stores across 14 cities and have over 800 customers online.  Read more...
April 2017: On April 29, 2017, a solar cooking festival for 500 schoolchildren was held at Kakuma Refugee Camp in Kenya. The idea was originated by three of the participants at the 6th SCI World Conference 2017, put on in January by Solar Cookers International in Gujarat, India. Roger Haines, CEO of Haines Solar Cookers, Ritesh Raithatha, CEO of Simplified Technologies for Life, and Godfrey Mawira Kaburu, an engineer with the World Food Program in Nairobi. At the Gujarat conference, Godfrey presented the results of his study showing that in October, 2016, solar cooking was the second-most preferred method of cooking at the Kakuma Refugee Camp, even though very few solar cookers were available. To create an inexpensive, durable cooker for the festival, Roger collaborated with Sharon Clausson, designer of the Copenhagen Solar Cooker, to design a "Haines-Copenhagen" cooker using Roger's metallized polyester (MPET) foam reflector, and a UV-resistant polycarbonate Haines Cooking Sleeve. The cookers were made in Kakuma by refugees from materials donated by Haines Solar Cookers, and should last 10 years with proper care. Ritesh's company, Simplified Technologies for Life, has produced "Suryakumbh" solar cooking festivals for almost 120,000 participants in India, and holds the Guinness Record for the most people solar cooking at the same time: 7,438. Ritesh and his colleague, Vivek Kabra, provided expertise and leadership for the festival. Godfrey put together a team of experts, including Mwenda Wilkinson, who handled the logistical, financial, and personnel details. The National Council of Churches of Kenya (NCCK) generously donated the services of Raphael Nyabala and Wilson Kinyua and many others to recruit the children and provide facilities and transportation. Funding was provided by Haines Solar Cookers and the San Diego, California, Rotary Club. Additional support and resources came from Solar Household Energy (SHE), a Washington, DC solar cooking organization. Other partners included Eco-Mandate, which sells solar cookers in Chuka, Kenya, the Alliance for African Assistance, a San Diego-based refugee resettlement organization, and the Rotaract Club of the University of California, San Diego, which made 500 Water Pasteurization Indicators (WAPIs) for the Festival participants. Training was provided by Faustine "Mama Solar" Odaba, and her Nairobi NGO, NAREWAMA. Significantly, Ms. Odaba had been one of the trainers in 1995 when SCI first introduced solar cookers in Kakuma. Before the festival, 50 refugee women were trained to use the cookers, and they in turn trained the children. The festival took place at Hope Primary School in Kakuma Camp Four. During the festival, "Mama Solar" set up fifteen cookers and cooked a wide variety of food, including rice, vegetables chicken, eggs, cabbage, ugali, beans and cake. The children sat in neat rows as trainers handed out the cookers, cooking pots, food and water. Each child assembled their own cooker, and successfully cooked delicious noodles before an enthusiastic crowd of family members and relatives. The children were elated and proudly showed off their new cookers. Follow up studies are planned, and Roger Haines is working with a local entrepreneur to offer Haines-Copenhagen solar cookers for sale in Kakuma for a sustainable price of around $25 USD.
February 2017: SuryaKumbh festival again sets record - Vivek Kabra reports: "On 11 Feb, 2017, 7,500 school children created history by participating in the World's Largest Solar Cooking Festival. Trained by 400 trainers and guided by 150 supervisors, each one of them made their own solar cooker and cooked noodles in it. Having experienced the power of the sun first hand, each child took the SuryaKumbh solar cooker back home to share the magic of cooking without fuel." More information...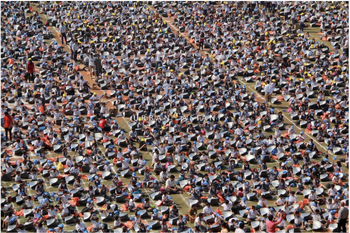 January 2015: 15,000 students in Mumbai solar cook and set world-record - 15,000 students from 80 schools in Mumbai, India set a new world-record for the largest ever solar cooking gathering organized by Simplified Technologies for Life & Keshav Srushti. Each student was given a solar cooker and taught how to use it as part of a national campaign to spread awareness of the importance of solar technology. C Vidyasagar Rao, governor of Maharashtra and Piyush Goyal, minister of state, Power, Coal & New Renewable Energy, attended the record-setting gathering. Read more at: Over 15,000 students create a new world-record in solar cooking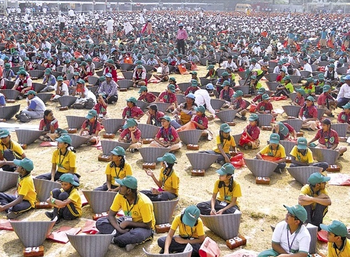 January 2014:India raises the bar for the world's largest solar cooking class - "As many as 3,484 children from over 80 schools participated in the largest solar cooking initiative Suryakumbha on January 4th, which has qualified as an entry to the Guinness Book of World Records. The emergence of renewable sources of energy as an answer to the imminent exhaustion of conventional energy sources pushed Simplified Technologies for Life (a Jalna based startup) and a Bhayander NGO, Keshav Srushti, to start with the most influential members of society, children." The class was held in Mumbai, India. Read more...
Audio and video
[
]
Articles in the media
[
]
See also
[
]
External links
[
]
Contact
[
]
Vivek Kabra
Simplified Technologies for Life
293, Ram krishna, Besides Parshwabhoomi Press
Sambhaji Nagar, Jalna, Maharashtra 431203
India
Tel.: +91 9960686393
Email: vvk557@gmail.com