Last edited:
29 March 2017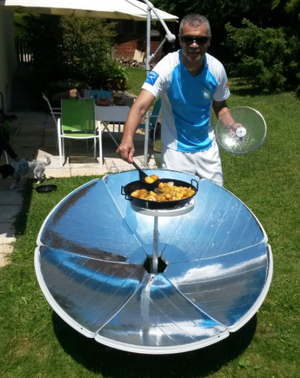 The Water&Solar100 incorporates a parabolic solar reflector and an electronic control device to provide solar tracking. It uses a photovoltaic electronically controlled motor to rotate the reflector, maintaining orientation with the sun.
Working alongside colleagues and students at the University of Stuttgart in Germany, and Water&Solar100 in South Africa, Dr. Wilfred Fritz and Solomon Smit have designed a solar cooker with automatic sun tracking, and temperature and timing controls. While working on the cooker, they realized it would be more efficient if it could also purify water and sterilize medical equipment, creating both commercial and household applications. Executive Manager Naldeem Salie, secured company listings for bulk orders, but units can also be directly ordered by end users.
The cooker is available with reflector sizes ranging from 1.2m(approx. 4ft) to 1.8m(approx. 6ft) diameters.
March 2017: The Water&Solar100 team has been invited to display their solar device at the Finals of the Africa Prize 2017 competition exhibition in Nairobi, Kenya from 22-23 May. The event is hosted by the UK Royal Academy of Engineering.
Articles in the media
Edit
Email: waterandsolar100@gmail.com
Web: http://www.watersolar100.com
Community content is available under
CC-BY-SA
unless otherwise noted.