Last edited:
25 April 2016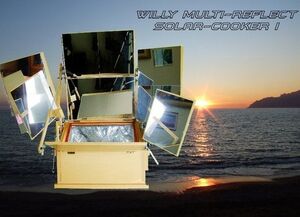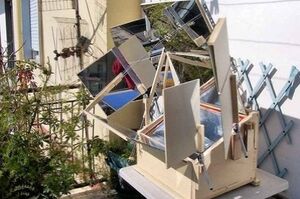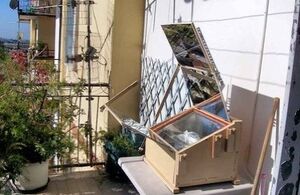 The Willy Multi-Reflect Solar-Cooker I is a solar box cooker, designed by John Jordan, that makes use of adjustable reflectors. With its five reflectors, four are removable, with the fifth able to fold down to act as a cover to exploit the oven during downtime with Heat-retention cooking. Well insulated, it has been shown to reach temperatures of 130 °C (266 °F), while outdoor temperatures were only 16 °C (61 °F).
Description in Italian by the inventor
Edit
Willy chiamato cosi solamente per semplicità, è un forno solare che appartiene alla catogoria BDM 2 Wall Concept IX,(sig.ra Barbara Kerr e Paul Funk_1980_) secondo indicazione del sito SCI che si occupa prevalentemente di stilare una classifica di tutti i forni e cucine solari in base a progetti originali comprese opere di brevetto reali,questo BDM 2 nel corso degli anni è stato progressivamente modificato dal Prof. Cheema nel 1984. Il Prof. Cheema aveva presentato un interessante variazione (BDM 3) già nel 1983. Questo è un riflettore doppio un disegno sulla parte superiore del vetro e un altro che riflettono la luce laterale,Il regime sembra essere interessante e Cheema sostiene di aver raggiunto una temperatura di 206 º C per comparazione 164 º C di un forno ordinario. Ritornano al nostro forno solare Willy, inventato dal Tec. Giordano Giovanni nel 2010, pur appartenendo alla categoria BDM 2/3 ha sviluppato nel suo insieme, delle caratteristiche di non poca importanza tecnica,vale a dire che è stato implementato da ben cinque+uno riflettori....
External links
Edit
Community content is available under
CC-BY-SA
unless otherwise noted.