Wolfgang Kapplusch is a solar cooker designer living in Heidelberg, Germany.
Recent news and developments
[
]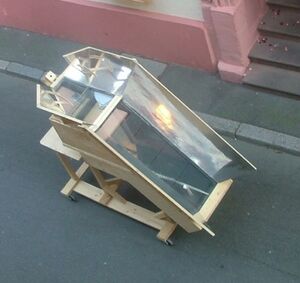 July 2013: Wolfgang has been working on design prototypes for several solar cookers. His design for a pizza cooker incorporates an elongated solar box cooker approach. The slanted solar collection chamber in front has blackened stones added to retain the heat generated. With time the solar oven looks it can deliver consistent heat output with the added thermal mass.
July 2013: Working with paper maché, he is working on a process for making fairly quick and inexpensive parabolic solar reflectors using cardboard for the curved formwork.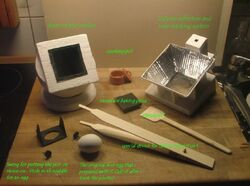 June 2013: Wolfgang has created a miniature solar box cooker. He has shown that the technology is able to work at such a modest scale.
Contact
[
]
Wolfgang Kapplusch
Krämergasse 12
Heidelberg 69117
Germany
Tel.: +49 06221-650167
Email: wolfkapp@gmx.de
Facebook: https://www.facebook.com/wolfgang.kapplusch