Last edited:
15 November 2017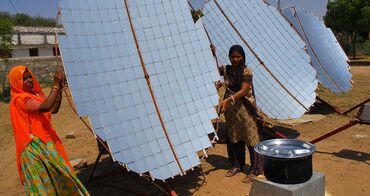 The Women Barefoot Solar Cooker Engineers Society, which was established in 2003, trains poor women from many countries to manufacture and cook on solar cookers and to work with other solar technologies.
A March 2015 article in Gulf News reports:
"It expanded their livelihood options and improved their quality of life. Ever since, together we have helped many illiterate and semi-literate women, who independently fabricate, install and maintain solar cookers," she claims.
Over the years, the six-months course has enabled women from several countries, including South Africa, Argentina, Brazil, Tanzania and Afghanistan to train and become solar engineers. Such efforts have also brought solar electrification to villages in many countries. Women associated with the solar power project in Tilonia now receive a fixed salary every month.
Explaining the working of a parabolic solar cooker, Shahnaz says: "It uses energy from sunlight to cook food. The sunrays fall on 300 mirrors that in turn, reflect them onto the bottom of a cooking pot and cook food quickly. The cookers are especially very useful in places that receive abundant sunlight.
"The eco-friendly cooking system now helps conserve trees and women do not have to spend long hours searching for firewood. The cooker may not be portable, but is user friendly. Adjusted once in the morning, it allows uninterrupted cooking during the day. Fitted with a spring and clock system, which completes one rotation in over three minutes, the cooker rotates and tracks the sun throughout the day."
Building a cooker requires high accuracy and skill in metal craftsmanship, which women at Barefoot seem to have in abundance. Each cooker weighing 130kg is built using precise measurements by bending, wielding and cutting in a month's time. There is no margin for error, as one miscalculation can result in a faulty cooker. But with willpower, these women have mastered the art and empowered themselves."
Articles in the media
Edit
External links
Edit
Web: http://www.barefootcollege.org
Email: Use this web form
YouTube: http://www.youtube.com/user/barefootcollege
Community content is available under
CC-BY-SA
unless otherwise noted.