Last edited:
1 December 2019
Mali is one of the five least developed countries in the world. Rapid population growth, inconsistent rainfall, recurrent droughts, and the degradation of natural resources have contributed to a continuing decline in food production in the region. Countries in the Sahel region of West Africa, where Mali is located, are experiencing rapid desertification. What little vegetation is left is being rapidly cut down for building material and firewood or eaten by roaming livestock. World Vision Mali helps Malians build brighter futures for their children. Through sponsorship, they can offer access to safe water and improved nutrition, agricultural training, health care, education, and assistance in starting small businesses.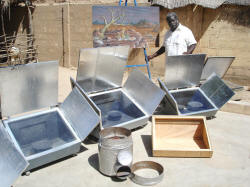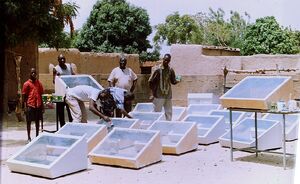 A portion of their efforts, under the direction of Gnibouwa Diassana, a local coordinator with World Vision Mali until retiring in 2012, were used to promote solar cooking as a necessary component to helping raise the health and living standard for the residents of Mali.

February 2013: Gnibouwa Diassana reports that World Vision Mali continues to be committed to training members of the community, including children, to solar cook. Instruction involves using various types of solar cookers. Besides being introduced to the technology, workshop participants practice local food recipes, bake cakes and bread with papaya, and learn to use their solar cookers to can mangos. He reminds us that solar applications are a simple solution for a complex problem.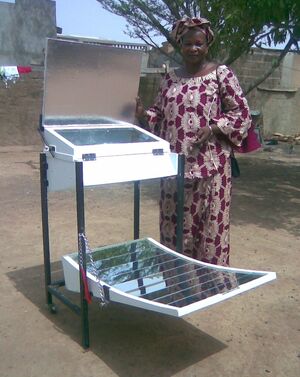 External links
Edit
See Gnibouwa Diassana.
Community content is available under
CC-BY-SA
unless otherwise noted.