This article is about an entity that either no longer exists or that may no longer be active in solar cooking promotion. It is retained here for archival purposes.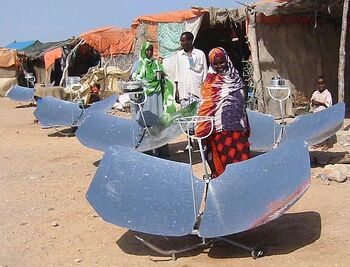 Yancheng Sangli Solar Energy in China reports that it produces 80,000 solar cookers per year, selling 50,000 in China and exporting 30,000 to countries such as Pakistan, India, the United States, and Brazil. Tom Rick, a spokesman for the Yancheng Sangli Solar Energy Co., Ltd., says that 1.84 million solar cookers have been produced by the company since it began manufacturing them in 1983.
The concentrator-type solar cookers are comprised of two reflectors totaling 1.5 square meters of collection area. The reflectors are made of thin cast iron with a highly reflective aluminum coating. Each reflector focuses a concentrated beam of light onto an area five centimeters in diameter under the cooking pot. The cooker is rated at 800 watts and is designed so that the reflectors are close to the ground, giving the cooker a low center of gravity for greater stability in wind.
The company reportedly was the first to standardize production of solar cookers in China, and its cookers were selected by the Chinese government for distribution in fuel-strapped Tibet. The sunny western provinces of China, such as Sichuan, Xinjiang, and Guizhou, are other important markets for the cookers.
According to Rick, most of the exported cookers are purchased by commercial dealers who re-sell the cookers to consumers.
For export, the unit price is about US $105 if delivered to Shanghai. The minimum purchase is 10 units at a time in a package that weighs about 500 kilograms (1,100 pounds). Shipping costs to other locations vary. For example, shipping 10 units to Karachi, Pakistan may only add about $18 to the price of the cookers, while shipping to Lagos, Nigeria will add close to $260. National governments might impose additional customs fees on imported cookers. The cookers must be assembled after delivery.
Readers of the Solar Cooker Review have seen pictures of the Sangli cookers in the August 2006 edition, as used by the Sun Fire Cooking project in Somalia (see photo at right).
Solar Cookers International's former Eastern Africa director visited the Sun Fire Cooking project and saw the Sangli cookers. She expressed some concerns about the size and weight of the cookers, noting that they would be hard to move into a small cottage or hut when not in use. Her conclusion was that they would be suitable for areas where people feel they can safely leave the cookers outside over night.
James Lindsay, one of the principles of the Sun Fire Cooking project in Somalia, is much more upbeat about the Sangli cookers. The choice of the Chinese cookers for the Somalia project, he says, "was the result of a search … over 10 years' time to find an effective cooker that people in Africa like using.
"Somalis were interested only in using [this] type of solar cooker because its cooking speed is comparable to charcoal," he adds. "The Women's Commission for Refugee Women and Children, in its March 2006 report Beyond Firewood, reached a similar conclusion."
Sun Fire Cooking has tested the dual reflector "butterfly" style cooker produced by Sangli in comparison with other concentrator-type solar cookers of parabolic shape. Sun Fire reports that the butterfly cooker boiled a liter of water in seven minutes, compared to 42 minutes for the parabolic cooker.
"Both solar cookers have been left outside in an open courtyard in Bosaso, Somalia for over six years," Lindsay reports, attesting to both the durability of the cookers and to the fact that, at least in Bosaso, the cookers are not stolen if left out at night.
According to Lindsay, the weight of the cookers not only makes them more stable in the wind, but discourages theft. He notes they can also be chained and locked, but says that so far theft has not been an issue.
"The only limitation on the use of the [Sangli] solar cooker," Lindsay says, "aside from rainy and overcast days, is where housing is so crowded that there is not sufficient room for the solar cooker to receive direct sunlight during the day. Most village and rural housing in eastern Africa does have sufficient space."
Rick of Sangli says his company also produces a parabolic cooker that weighs 20 kilograms (44 pounds) instead of 50 kilograms (110 pounds). He adds that his company does more than just sell the cookers to wholesalers; it helps "open up the solar market together with the client."
External links
[
]