Jurassic World: Dominion Dominates Fandom Wikis - The Loop
Play Sound
| | |
| --- | --- |
| | Solar cooking "Avon Ladies" in Zambia - Noted as one of the most significant solar cooking projects, the Solar Health and Education Project (SHEP) began in 2007 to fund solar cooking workshops in rural areas of Zambia. The team, with direction from Alison Curtis, developed a system to appoint a local leader at the workshop to follow up with a group of participants to help and encourage using the new cookers. As of 2012, the solar team had ten excellent leaders who have been taking turns spreading the solar news by setting up at shows, events, museum gatherings, school playgrounds, and clinics. Read more about SHEP leadership training. Lesson learned: Creating a team of well-trained local teachers. |
Events
[
]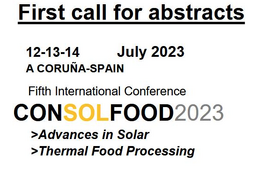 NEW: 

12-14 July 2023 (A Coruña, Spain): CONSOLFOOD2023 - Organizers have released a first call for abstracts to participate in the Fifth International Conference, taking place in Spain in 2023 as an in-person conference. The deadline for submission is 15 December 2022. More submittal information...
See also: Global Calendar of Events and past events in Zambia
News
[
]
November 2017: Clement Musonda summarizes several solar cooking projects that have taken place in DRC-Katanga, Zambia, and Zimbabwe. The project in DRC-Katanga began in 2010 with the organization of an NGO to highlight environmental concerns and manufacture solar cookers and food dryers in the town of Kinshasa. The project in Zambia began in 2011 after Clement attended an international natural medicine training in Kafakumba. In 2012 Clement was invited again to Ndola, Zambia where he showed his solar box cooker can used in natural medicine. In 2014 Clement decided to stay in Zambia to help with the project now centralized in Lusaka. Clement also organized a solar box cooker construction workshop with local carpenters in 2016 in Harare, Zimbabwe.
September 2017: Clement has been building Heliac solar cookers, using an inexpensive fresnel overhead lens. The light is focussed down and reflected back up under the cooktop. Cooks are able to prepare food, and work at a typical counter height. With his wife, Rosa, they used their solar box cooker in conjunction with with a parabolic solar cooker provided by Sol Suffit, the SuniCook model. They created an organization named Rosa Solar Stoves, which is registered by PACRA. In Lusaka / Zambia.
September 2016: UK lecturer donates sixteen parabolic solar cookers to local communities - Dr. Karen Treasure, a lecturer at Plymouth University in United Kingdom (UK), has donated sixteen parabolic solar cookers to various communities in Livingstone as well as in rural areas between Monze and Mazabuka in Zambia. "This year, there is a prediction that Zambia will lose 400,000 hectares of trees, which is not sustainable." She feels solar cookers are among the best, sustainable options to benefit people living in rural areas. She plans to crowdsource-fund more solar cookers to be distributed to various Zambian communities through Solar Empower Zambia, the organization that she has founded. Read more... 
August 2016: Sol Suffit representatives Clement Musonda Kankomba and his wife provided a solar cooking demonstration in a village in Zambia using a solar box cooker and parabolic solar cooker this summer. Clement has been working from the capital of Lusaka, presenting solar cooking workshops there since 2014.
August 2013: As part of their Trees for Zambia 2013 project, Greenpop - Solar for Trees constructed 20 solar cookers out of recycled materials with their participating school groups. The goal was not only to build these 20 solar cookers, but to demonstrate that solar cooking is a cheap and effect way to cook. For more information, visit the Trees for Zambia project page.
May 2013: Julia Taylor, founder of the nonprofit organization Greenpop - Solar for Trees, is conducting research using parabolic solar cookers in Livingstone, Zambia, with a women's group called Solar Ventures. They intend to encourage solar cooking by slowly breaking down barriers to behavior change and teaching children about solar power. The aim is to encourage local design and innovation around solar cooking. They began teaching solar cooking in 2012 and have already taught 300 people to solar cook by spring 2013.
December 2012: The Solar Health and Education Project (SHEP) has created a project at a community-based nursery school in Livingstone for unschooled mothers, whose only source of income has been illegally making charcoal. During the course of the program, they learned how to make and use the CooKit solar cooker as an income-generating activity and formed themselves into a registered group called Solar Ventures (SV). They have been holding SHEP-funded workshops at clinics, schools, and agricultural shows (where they won 1st place for the most interesting booth in 2011) as well as government-sponsored functions on energy and conservation. They were invited to Lusaka to run a three-day workshop for a UK-based NGO. Their life is certainly different now since their introduction to solar cooking.
December 2011: EG-Solar reports that it is working on a carbon-credit solar cooking project in Zambia.
August 2010: The Solar Health and Education Project (SHEP) began in 2007 to fund solar cooking workshops in rural areas of Zambia and also with the urban poor in the Livingstone area. The main goal of the workshops was to introduce solar cooking methods to the community in a sustainable fashion. Most at the workshop have little education, but are completely sold on harvesting the sun for their daily needs of cooking fuel. The team, with direction from Alison Curtis, developed a system to appoint a local leader at the workshop to follow up with a group of participants to help and encourage using the new cookers. Now, three years later, the solar team has ten excellent leaders who take turns spreading the solar news by setting up at shows, events, museum gatherings, school playgrounds, clinics and so on. These unschooled women leaders have learned to fill in a simple form, which SHEP developed with their input, so they have the knowledge to complete a request for funds themselves. The headmaster at the nursery school reads these requests and grants the money from SHEP to hold the demonstration or workshop. The women do the shopping, keep receipts, hold the event, and then fill in a very basic report. They are paid for their workshop day at $2.00 USD per event. The women are quite resourceful, as they have learned to make CooKits from cartons and reflective Crisp wrappers found in the trash.
August 2009: The Workers Education Association of Zambia sent Victor Phiri to be trained as a trainer in solar cooking and expose him to other cooking energy technologies. This was in recognition that they needed to build the capacity of at least one trainer and afford him hands-on experience and have him visit ongoing projects so that he could learn more, both in theory and in practice. This training was a lead-up to a training of trainers in Shapi village, Mansa. The weekend of 20-21 November 2009 was a busy one for the selected trainers. A training of trainers was facilitated by Solar Cookers International trainer Faustine Odaba, assisted by Victor Phiri, National Coordinator of the Workers Education Association of Zambia. A total of 46 men and women were trained. The following foods/liquids were solar cooked: Isima (Ugali), groundnuts, cabbage, rice, meat stew, and water (pasteurization). They also learned how to use fireless cookers and how to recycle plastic waste materials into useful items.
November 2008: Manda Chisanga, a safari guide in South Luangwa National Park, first learned about solar cooking from U.S. travelers on safari. He immediately understood the environmental and health benefits that solar cookers could provide to the women of his community (many of whom walk several miles through areas where elephants sometimes attack humans) by reducing the need to collect firewood for cooking. When Chisanga was named top travel guide by Wanderlust magazine and awarded UK£ 5,000 to be spent in his local community, he knew what to do with the money. Chisanga approached SunFire Solutions with a proposal to introduce solar cookers to the women of his community in Luangwa valley. SunFire, a solar cooker promotion and development agency based in Johannesburg, South Africa, distributes a variety of solar cookers and related technologies. According to SunFire representative Crosby Menzies, deforestation is a serious problem in and around wildlife areas like South Luangwa National Park. "Loss of habitat means loss of species, loss of species reduces tourism, lack of tourism brings in less income to the area," he said. Menzies also noted that women and children must walk increasing distances to collect firewood for cooking, stating, "In many parts of Africa people say that the trees are running away from them." In 2007, five SunFire 14 parabolic solar cookers were assembled and distributed to families in the village of Mfuwe. Subsequently, an additional 10 cookers have been distributed. SunFire is currently looking for funding to bring several hundred solar cookers to the community of about 6,000 families. The cookers have proven useful for cooking local staples including rice, beans, and maize. The women who have access to the solar cookers have reportedly reduced their firewood collection trips from an average of three per week to only one. A documentary film about the Mfuwe solar cooker project, called "Manda's Prize," has been airing on the Al Jazeera documentary program "Witness," and can been seen online. See links in Audio and video section below.
September 2008: A documentary has been made on a project in Zambia called the Mfuwe Solar Cooker Project. Manda Chisanga, a guide in South Luangwa National Park, won a guiding award and decided to spend his prize money on solar cookers. SunFire Solutions was asked to go up to Zambia and launch a Solar Cooker Project at Mfuwe. The documentary covers the installation of five SunFire14 parabolic dishes; the project has been expanded to 15 and we are looking at ways to get 500 parabolic dishes into the community to cover 6,000 families. Cookers are being shared by two families, and at present we are short of financial support to expand the project and are examining options. For more info contact Crosby Menzies.
July 2007: Solar Health and Education Project (SHEP) reports holding workshops in both Zambia and Kenya for newly trained teachers preparing to go to remote villages on assignment. The workshops were five days long. The first day was used for basic education about solar cooking and solar water pasteurization, while the other four days were used to practice and implement solar cooking skills. The 70 participants all built their own solar cookers. Based on the success of these workshops two more have already been scheduled. SHEP has developed a relationship with Tetra Pak International — manufacturer of aseptic drink containers — whereby SHEP uses Tetra Pak's excess foil-lined paper for solar cooker construction. (The foil-lined paper is printed in wide rolls, sometimes resulting in excess material begin generated.) According to SHEP, Tetra Pak is willing to accept proposals from other nongovernmental organizations that may want to use the reflective material as long as the material will be used for workshop participants to construct solar cookers.
History
[
]
Rotary Club of Lusaka Central and the Girl Guides Association of Zambia
A small solar cooking project was started in Zambia with the assistance of the Rotary Club of Lusaka Central and the Girl Guides Association of Zambia. By December 1999, 50 people had been trained to use solar cookers. Rotarian Nic Money continued the work, which was started by American Rotarian Wilfred Pimentel and Girl Scout trainer Barby Pulliam, also an American.
Archived articles
Climate and culture
[
]
Solar Cookers International has rated Zambia as the #25 country in the world in terms of solar cooking potential (See: The 25 countries with the most solar cooking potential). The estimated number of people in Zambia who will be living in sunny areas, but suffering from fuel scarcity in 2020 is 1,100,000.
See also
Resources
[
]
Possible funders
[
]
Facebook groups
[
]
Reports
[
]
Articles in the media
[
]
Audio and video
[
]
External links
[
]
Contacts
[
]
The entities listed below are either based in Zambia, or have established solar cooking projects there:
SCI Associates
[
]
NGOs
[
]
Manufacturers and vendors
[
]
Individuals
[
]
Government agencies
[
]
Educational institutions
[
]
See also
[
]
References
[
]