Jurassic World: Dominion Dominates Fandom Wikis - The Loop
Play Sound
Last edited:
25 February 2020
Events
[
]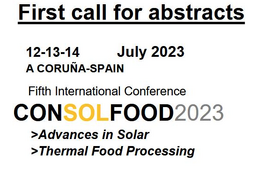 NEW: 

12-14 July 2023 (A Coruña, Spain): CONSOLFOOD2023 - Organizers have released a first call for abstracts to participate in the Fifth International Conference, taking place in Spain in 2023 as an in-person conference. The deadline for submission is 15 December 2022. More submittal information...
See also: Global Calendar of Events and past events in Zimbabwe
News
[
]
May 2018: Solar approaches taught in Zimbabwe - The Renewable Energy Association of Zimbabwe and Practical Action Zimbabwe have joined forces to help educate local citizens about the advantages of converting their farming and cooking methods with the use of solar technology. Approaches include solar power pumps to bring water to farm fields, and solar cookers to prepare meals.They have organized solar fairs within Zimbabwe to exhibit solar options. More information...
November 2017: Clement Musonda summarizes several solar cooking projects that have taken place in DRC-Katanga, Zambia, and Zimbabwe. The project in DRC-Katanga began in 2010 with the organization of an NGO to highlight environmental concerns and manufacture solar cookers and food dryers in the town of Kinshasa. The project in Zambia began in 2011 after Clement attended an international natural medicine training in Kafakumba. In 2012 Clement was invited again to Ndola, Zambia where he showed his solar box cooker can used in natural medicine. In 2014 Clement decided to stay in Zambia to help with the project now centralized in Lusaka. Clement also organized a solar box cooker construction workshop with local carpenters in 2016 in Harare, Zimbabwe.
May 2017: Contribute your data: Drive solar cooking results - Solar cooking contributes to long-term progress from cleaner, more efficient, sustainable cooking solutions worldwide. It is crucial to convey the positive health, economic, and environmental impacts of solar cooking to government agencies and other stakeholders. To help build this case, SCI is reaching out to all solar cooking partners. SCI invites your input in the form of data on baseline information, number and type of solar cookers, number of years of the project, location, outcomes, etc. With your help, we can work to include solar-thermal cooking in national energy and sustainability plans. You provide:
Number of solar cookers
Type
Location
Time period
Distributed
Sold
Manufactured
Submit your solar cooking data by filling out a simple form on the Solar Cookers International website or email info@solarcookers.org.
October 2015: Women in remote village to receive solar cookers - Mt. Juliet, Tennessee, USA resident Paul Van Buren will travel to Zimbabwe this month, taking with him solar cookers that will allow women who are infected with HIV/AIDS to cook without firewood, adapt to a changing environment, and learn to live more positively. He worked with fellow Rotarian Roger Haines from a San Diego club. Haines has developed a solar cooker, the Haines Solar Cooker, appropriate for Africa. Read more...
.
May 2013: Madison Solar Engineering is an experienced solar power company located in Mutare, Zimbabwe. They have been in operation since 2005. Besides offering photovoltaic electrical systems, they also offer parabolic solar cookers for sale at their store in Mutare.
May 2007: Coates Brothers Zimbabwe are selling about 7 tonnes of 0.29 mm Lithographic Aluminium Sheet. If you are interested please e-mail Matthew.Mhunduru@af.sunchem.com.
History
[
]
World Solar Summit Commission
A project in Zimbabwe was started in 1997 in conjunction with the meeting of the World Solar Summit Commission, a group of Heads of State from representative nations of the world, announcing the start of the World Solar Decade, 1996-2005. Prior to that time, Solar Cookers International, with the aid of a financial grant from UNESCO, had quickly initiated a project in Zimbabwe in collaboration with the Development Training Center, a unit of the University of Zimbabwe. The history of the project, while having an auspicious beginning, is not an altogether rosy one.
Initially, the project proceeded well. A corps of experienced trainers traveled to Zimbabwe to two selected areas, one rural and the other a peri-urban area near the nation's capital, Harare. Staff from DTC assisted in organizing local contacts with appropriate organizations; training of women in both sites was accomplished swiftly and effectively. The Commission meetings went well; they were able to enjoy solar-cooked food produced by Zimbabwean women, which was described as excellent by the national Heads of State and other high officials present. In the years following, between 1996 and 2003, over 6,000 cookers had been sold and their buyers trained in solar cooking methods. However, after the officials departed and with the Commission's work accomplished, the project was less secure financially, and promised funds for future years were not made available to SCI and the DTC. Adjustments had to be made in expenses, the projects were considerably curtailed, and new modes of operating were sought.
Over time, the peri-urban project was dropped, while the other, located near Zimbabwe's second major city of Bulawayo, was changed to one that conceptualized individual trainers as independent entrepreneurs, selling the cookers plus a training program for a fee, which generated a small income for the trainer. While this system succeeded, many difficulties ensued in latter stages of the project: transportation in rural areas was difficult and erratic; supplies were not always available in a timely manner; and staff changes at DTC required continuous reorientation to the project. Kindhearted trainers sold cookers on time, but had difficulty collecting the funds from buyers. Misunderstandings were occasionally present between the two major sponsors, which were separated by 8,000 miles. Funds for use of the solar cooking programs from Solar Decade money allotted to the Department of Energy never became available.
Finally, as backdrop for the work, the nation was experiencing extraordinary political and economic turmoil. Many hours were spent re-examining what went wrong with this project, which though continued to operate on a small scale, surely might have been more effective (Kimberly, p.217). A small Rotary funded project, however, also operated in the same area of the country, near Bulawayo, and utilized a number of the trainers from the SCI project.
Wilfred Pimentel Rotary project
Jill Miller-Cranko reports:
Solar Cooking was introduced to Zimbabwe from two sources: Rotary International and the Girl Scouts of America. In 1997 a retired veterinarian from California, Wilfred Pimentel, came to Zimbabwe as a Rotary volunteer, and spent a month in Bulawayo (the second city of Zimbabwe, situated about 500 km south of the capital Harare) introducing the concept of the use of solar power for cooking, using CooKits (cookers made from cardboard). He gave demonstrations and talks to local Rotary Clubs, and returned in 1998 and 1999 on follow-up visits. With the financial backing of a three-year Rotary Matching Grant from Rotary International, Wilfred Pimentel set up a successful project in a rural area that was devoid of trees, about 20 km outside Bulawayo, called Ntabazinduna. This continued for more than the anticipated three years, under the care of a committee of local Rotarians. There was a team of 10 local women who became Trainers. They were supplied with bicycles, a uniform of a Rotary cooking apron, training materials, recipe books, and advertising banners. For a year the project had sufficient funding to give part-time employment to a former teacher, with a vehicle. He transported the trainers to outlying areas within a 100 km radius of Bulawayo. After this the team had exhausted the demand in their area, and lost interest. Some moved away due to the economic conditions in the country and the project ceased to function as the number of trainers diminished. When the the funding ran out, the project was shutdown in December 2005.
World Association of Girl Guides and Girl Scouts
Barby Pulliam, a Girl Scout Leader from California, came on the scene shortly after Wilfred Pimentel. She was an international trainer of the World Association of Girl Scouts and Girl Guides (WAGGGS). Barby and Wilfred were both members of Solar Cooking International and sat on their committees.
In 1998, Barby trained a small selected group of six adult Girl Guide Leaders in Bulawayo. Initially, they persuaded Rotary to take them financially under the wing of the Rotary Project, but in time they became self-funding by selling CooKits after monthly demonstrations in the urban area of Bulawayo, and by giving demonstrations to schools, factories, church organisations, and other groups of interested persons. There was a demand for the cookers in town due to the high cost of electricity, the non-availability of gas, paraffin, or firewood for cooking. Barby Pulliam returned to do further trainings of more new Solar Trainers. All the Girl Guide Trainer/Demonstrators who continued with the program were school teachers in Government schools.
In 2008, the school system virtually collapsed as teachers abandoned the schools since they were not being paid any salaries. As a result, the Solar Trainers lost interest, as they had no income from teaching. The costs of cooking ingredients for the demonstrations and travelling expenses were always reimbursed to the Trainers, but with the general economic meltdown, they were unable or unwilling to continue as Trainers. Sadly all the profits were wiped out by the continual devaluation of the Zimbabwe dollar (21 decimal places were removed from the value of the Z$ over numerous devaluations).
Barby Pulliam started a similar project with the Girl Guides Association of Zimbabwe in Harare, where she had identified Epworth, a rural training centre about 20 km from Harare, as a suitable area. Unfortunately there was lack of interest from the adult Guide leaders, of whom none became trained in solar cooking, and the idea fizzled out (although there was probably a group of women at Epworth whom Barby trained herself).
Involvement of the University of Zimbabwe
In Harare, the University of Zimbabwe Department of Technology had a programme using CooKits, and trained local personnel to demonstrate their use.
Archived articles
Climate and culture
[
]
Solar Cookers International has rated Zimbabwe as the #21 country in the world in terms of solar cooking potential (See: The 25 countries with the most solar cooking potential). The estimated number of people in Zimbabwe with fuel scarcity but ample sun in 2020 is 2,600,000.
Jill Miller-Cranko reports that heat-retention cooking is known to many in the urban areas, but is not widely known in rural areas where it is the most needed.
See also
Resources
[
]
Possible funders
[
]
Reports
[
]
Articles in the media
[
]
External links
[
]
Contacts
[
]
The entities listed below are either based in Zimbabwe, or have established solar cooking projects there:
SCI Associates
[
]
NGOs
[
]
Manufacturers and vendors
[
]
Individuals
[
]
Government agencies
[
]
Educational institutions
[
]
See also
[
]
References
[
]